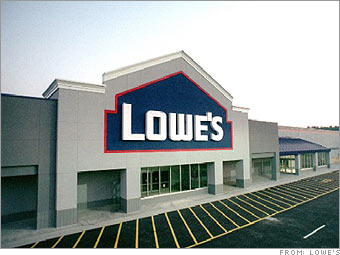 Maybe a better title to this post would have been, Lowe's Blows... I'll let y'all vote.
In the never-ending saga of poor customer service that seems to envelop my life (yes, still looking for what it is that balances it), Lowe's is the recent business to take a swing at me.
It's really been a massive clusterf*ck. I purchased a refrigerator, washer and dryer. When my condo was built, the W/D closet was too small for the bitchin' steam W/D that I bought, so I had to get them refunded.
I also snatched a
clearance
(oops, I musta had clearance on the mind, Clarence) refrigerator that was MINT in the store when I bought it, but by the time that they delivered it the thing was scratched all to hell and dented in both upper doors. The delivery guys said that it'd be no problem, they'd just replace the doors. I also discovered that the water dispenser didn't work and a broken flapper was causing the inside of the freezer to frost up.
Now, Lowe's is back-pedaling and saying that because it was a clearance item that they can't replace the doors, but can give me an extra 10% discount... which would be about $170 bucks.
That's weak-ass-shiz. Sorry K-Blo, not your fault I know, but I'm dissing your employer.
It's time to introduce y'all to zeaLOG. I have a place where my friends and I all
track our customer service woes
, check it.
UPDATE 11/03/08: Lowe's has delivered a brand spankin' new, unscratched, undented, working refrigerator to my condo. Check.